1.

A Lolly Polly freakshake at Steak, Cattle and Roll.

Instagram: @r

A restaurant called Steak, Cattle, and Roll doesn't sound like the best place to get a great vegan milkshake, but just look at this bad boy – vanilla ice cream, hazelnut milk, raspberry syrup, and fresh fruit, all topped off with an ice lolly. Amazing.
2.

A "Hail Seitan" burger at Brew Dog.

Instagram: @jamesvsburger

Fancy a beer-marinaded BBQ seitan burger, served with houmous, tomato chutney, and crispy kale? Of course you do. Alternatively, try a "Soy Division" tofu dog with avocado houmous and fried onions, washed down with some Punk IPA.
3.

A crispy tofu bao at Kimchi Cult.

Instagram: @vso_vegankitchen

This Korean-inspired fast food joint do the best tofu steamed buns you've ever had. Each one is filled with battered tempura tofu, pickled vegetables, and ssamjang: a traditional spicy sauce made with soybean paste, chilli, and sesame.
4.

A Philly cheesesteak sub at The Flying Duck.

Instagram: @elv

This cheeky wee vegan bar in the city centre hosts a regular vegan fête, as well as selling loads of great mains like this sub roll filled with seitan, vegan cheese, red pepper, and fried onions. The southern-fried tofu sizzler is a delight, too.
5.

A sushi burrito at Temaki.

instagram.com

These gigantic sushi rolls are a real taste sensation. Vegan fillings include cucumber, avocado, sweet potato tempura, asparagus, and spicy mushroom, all for under £8.
6.

A "steik" bake at Kind Crusts.

Instagram: @kindcrusts

Glasgow sandwich house Kind Crusts are basically a vegan Greggs, but a lot classier. As well as this amazing faux steak bake, they also sell decadent wraps – try their vegan chicken and pancetta club with thyme buerre and basil pesto.
7.

Vegan brioche doughnuts from Big Bear Bakery.

Instagram: @goveganscotland

These lush treats are fluffy, delicious, and 100% vegan. Choose from peanut butter salted caramel, or their Pink Panther raspberry glazed doughnut. Big Bear supply Gordon St. Coffee and sell doughnuts wholesale from Finnieston House.
8.

A full vegan breakfast at Rose & Grants.

Instagram: @goveganscotland

This wee café in Glasgow makes its own vegan square sausage, which had people flocking to try it when it was first introduced. If you don't have time for a sit-down breakfast, you can also get a square sausage roll to take away for £2.60.
9.

A macaroni pie from Cool Jerk Vegan.

instagram.com

These Glasgow-based vegan piemakers also sell veggie haggis and mash pies, vegan bridies, and pulled jackfruit pies. They sell them at various market stalls in the city, and you can often find them at the Flying Duck's big vegan fête.
10.

A shredded tofu chipotle burrito at Taco Mazama.

Instagram: @_sistermidnight_

To make this amazing takeaway burrito, Taco Mazama first pan-fry the tofu until its crispy, then slow braise it with a chipotle and citrus sauce. Oh yeaaaah. Their vegan mac and cheese burrito is an awesome experience too.
11.

A haggis pizza at Stereo.

Instagram: @haberbashery

This lively café bar and venue is 100% vegan, and they serve some truly amazing comfort food. This veggie haggis pizza is a fusion dish you really don't want to miss.
12.

Smoked tofu tempura at Saramago Café Bar.

Instagram: @veganglasgowgirl

Saramago is a bright, airy vegetarian café at the Centre for Contemporary Arts. This crispy, smoky tempura side dish comes with a spicy soy and chilli dip. If you want a main, go for their big veggie haggis fritters with pea and mint purée.
13.

A buffalo cauliflower pizza at Mono.

instagram.com

It's hard to choose just one dish from this vegan bar's extensive menu, but their pizzas really are a treat. This one is covered in lashings of vegan caesar dressing, as well as red onion, herbs, and battered, spiced cauliflower. Heaven.
14.

Coconut and bean chilli nachos at The 78.

Instagram: @elsabrotchie

This laid back vegan bar has a real "country pub" vibe, as well as an open fire. They have tons of mains to choose from, but these sweet n' spicy nachos served with jalapeños, salsa, chilli jam, and vegan sour cream will give you life.
15.

Chocolate and cherry cake at Picnic.

instagram.com

Picnic is a relatively new vegetarian lunch spot on Ingram Street with a great range of salads, toasted wraps full of vegan cheese and avocado, and (of course) bloody lovely vegan cakes like this chewy, biscuity, chocolatey, fruity delight.
16.

A breakfast burrito at Nice and Sleazy's.

Instagram: @jamesvsburger

This massive burrito is stuffed full of scrambled tofu, seitan, rice, onions, vegan cheese, chilli, and peppers. The brunch menu also includes vegan migas: scrambled tofu with salsa fresca, fried potatoes, and pinto beans. Hell yeah.
17.

Vegan Burd chocolate bars.

Instagram: @veganburd

These phat chocolate bars are the work of Adele Ralston, who's basically a vegan Willy Wonka. "A Wafer A PB Break" is just like a peanut butter Kit Kat Chunky. You can find her chocs at Gordon St. Coffee, or order them online at her Etsy shop.
18.

A Mad Chef V Mac.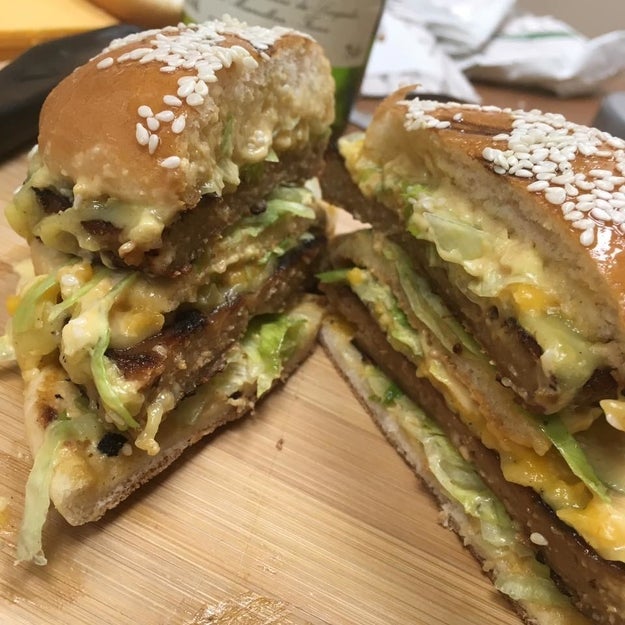 Facebook: madchefglasgow
This has to be one of the Mad Chef's most impressive creations yet: two thick burger patties, two slices of melted cheese, gherkin and mustard sauce, ketchup, and shredded lettuce. It's going to be the signature dish at the new "Mad Lab" pop-up he's running. Keep an eye on his Facebook page for the launch date.
"Vegans just eat grass, quinoa, and twigs." Hmm. Yeah, right.