Chance The Rapper on Monday announced that he is donating $1 million to Chicago Public Schools (CPS), while urging Illinois Gov. Bruce Rauner come through with more spending on public education.
Frazer Harrison / Getty Images
At a news conference, Chance said he met with Rauner to "urge him to do his job" and to "honor his original commitment to provide $215 million to CPS."
According to Chance, the meeting to discuss public schooling and citywide-related issues was unsuccessful.
"The governor gave me a lot of vague answers in our meeting and since has called me over the weekend," he told reporters. "Our talks were unsuccessful. Governor Rauner still won't commit to giving Chicago's kids a chance without caveats or ultimatums."
Chance then announced his $1-million donation to CPS.
Corbin Reiff

✔@CorbinReiff

.@chancetherapper is donating $1,000,000 to Chicago Public Schools

10,56310,563 Retweets

19,58719,587 likes
"Today, I'm proud to announce that I'm donating $1 million to CPS to support arts and arithmetics programming," the rapper said as a roomful of students' faces lit up and applause broke out.
Chance said the donation was made possible from ticket sales for his upcoming tour.
When asked why he was making the donation, the rapper responded, "'Cause it's what's right."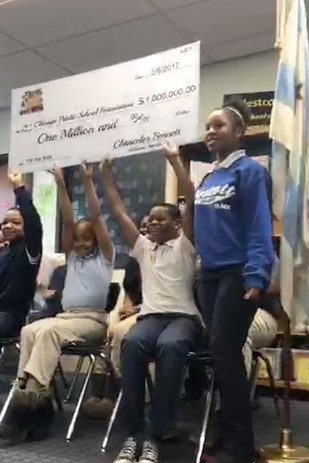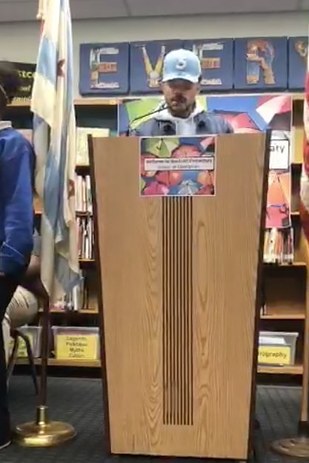 Chance concluded his press conference by thanking his supporters — and the parents and teachers of Chicago public schooling.
Like the students in the classroom, applause broke out across the internet.
View image on Twitter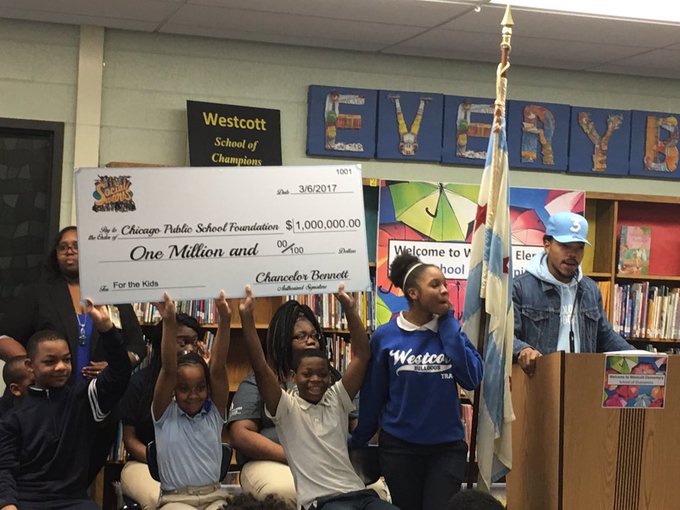 Andrew Barber

✔@fakeshoredrive

LEGEND.

5,4055,405 Retweets

11,25111,251 likes
Denis

@1DENlS

this just gave me goosebumps…
NO ARTIST IN MUSIC TODAY IS DOING WHAT CHANCE IS DOING FOR THE YOUTH OF CHICAGO https://twitter.com/fakeshoredrive/status/838847582558367744 …

119119 Retweets

244244 likes
Darren Johnston

@DarrenEdward

THIS is leadership! Thank you @chancetherapper! https://twitter.com/leximccammond/status/838844850355200000 …

140140 Retweets

618618 likes
And more than a few people noted that an independent musician is doing more than people in office.
Gary Parrish

✔@GaryParrishCBS

Chance is trying to do more for the children of Chicago than most politicians. https://twitter.com/ABC7Chicago/status/838848113574019073 …

196196 Retweets

406406 likes
FSHOTY

@AntyreonCambric

Why chance doing more then the government https://twitter.com/complexmusic/status/838847534248390656 …

6,5636,563 Retweets

13,56513,565 likes
nathan

@1YUNGSPAM

It is profoundly sad that IL politicians care so little about funding public schools that they have to get a bailout from Chance the Rapper
Michelle Obama thanked the rapper for giving back to his home-city. "You are an example of the power of arts education," she wrote in a tweet.
Michelle Obama

✔@MichelleObama

Thanks @chancetherapper for giving back to the Chicago community, which gave us so much. You are an example of the power of arts education.

70,86170,861 Retweets

274,918274,918 likes
Civil rights activist Deray Mckesson hoped that "Chance's commitment to his hometown and to using his platform for the greater good" will inspire other non-politicians.
deray mckesson

✔ @deray

.@chancetherapper just announced a $1 million donation & a matching funds challenge to Chicago Public Schools to address the funding gap.
deray mckesson

✔@deray

Chance's commitment to his hometown and to using his platform for the greater good are a model for other influencers.

2,3162,316 Retweets

5,4595,459 likes
And for folks who had purchased tickets just to attend Chance's shows — and now realizing it's helping to fund that $1 million check — 'twas all the more reason to celebrate.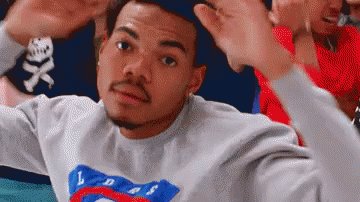 The Undefeated

✔@TheUndefeated

When you realize that, by buying tix to @chancetherapper's upcoming tour, you just donated to public education in America.

5,4035,403 Retweets

11,41211,412 likes
People even decided to update his moniker.
Diamond?

@DiamondDollazz

Chance the Philanthropist https://twitter.com/complexmusic/status/838847534248390656 …

2,9012,901 Retweets

9,2939,293 likes
Sylvia Obell

✔@SylviaObell

Chance The Mutha Fuckin Legend
UPDATE — The office of Governor Rauner sent a statement to BuzzFeed News following Chance's press conference and donation announcement.
"While the Rauners are passionate donors to our schools, individual contributions will never be enough to address the financial challenges facing CPS," Eleni Demertzis, a representative for Rauner's office responded in an email.
"It would be helpful if CPS officials came to Springfield and joined in serious good faith discussions about the long-term stability of all of our schools."